Posted: September 26th, 2017
DE-Tenants.org has previously explained that the billionaire Sheikh Hamad bin Jassim bin Jaber Al Thani (known by his initials "HBJ"), a member of the Qatari royalty and the former Prime Minister, was discovered in the Panama Papers, a massive trove of 11.5 million leaked documents from a controversial Panamanian law firm called Mossack Fonseca. The Panama Papers exposed over 140 politicians from more than 50 countries connected to offshore companies in 21 tax havens.
The International Consortium of Investigative Journalists (ICIJ), the group that published the Panama Papers in 2016, has linked HBJ to eight corporate firms in three jurisdictions widely regarded as tax havens—namely the British Virgin Islands, the Bahamas and Panama.
One of these companies was Trick One Limited, through which HBJ held shares and mooring spaces in the Spanish port of Palma, Mallorca, and managed his super-yacht, the $300 million Al Mirqab (SOURCE).
Today DE-Tenants.org will explain how Trick One Limited leads to suspicious financial transactions and a £100 million fortune.
ICIJ data about Trick One Limited are outlined below.
A host of principals have been linked to Trick One Limited as shareholders but, per the ICIJ, the only director or beneficial owner ever associated with the firm was HBJ. The ICIJ outlines the succession of shareholders as they came and went after the firm's incorporation in 1998 until its dissolution in 2007. The data are reflected in the table below.
ANZ One Limited and ANZ Two Limited are also believed to be linked to HBJ because they were the only shareholders ever associated with another firm called Anoud Al-Doha Limited where HBJ was the only beneficial owner for over a decade.
Pride Overseas Holdings Limited is an anonymous company. Its true beneficiaries are not known. However, Yaheeb Holding Limited and Mr. John Rea are the most intriguing shareholders. The two were the sole shareholders in Trick One Limited during the exact same period from July 2002 to April 2003. DE-Tenants.org believes Yaheeb Holding Limited to be a trust vehicle reportedly linked to HBJ, suspicious financial transactions, and a £100 million fortune.
HBJ Tied to Jersey Trust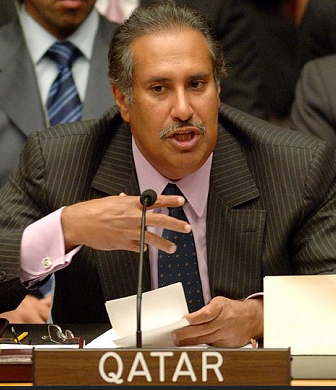 Trick One Limited's former shareholder Yaheeb Holding Limited was, according to the ICIJ, incorporated in the British tax haven of Jersey. DE-Tenants.org has found Isle of Jersey court records indicating HBJ is linked to Yaheeb Holding.
Jersey court records, supplemented with press coverage, show that a "Yaheeb"-branded trust entity backed by HBJ was at the center of a money laundering investigation (see HERE and HERE) by the Attorney General of the Isle of Jersey. Ultimately HBJ was not charged and the probe was dropped, but not before the investigation, as described by The Guardian, "brought relations between the UK and Qatar close to breaking point" and HBJ agreed to pay £6 million to the Jersey government to repair any "damage perceived to have been sustained in the events that have happened." (SOURCE)
The British Isle of Jersey is a tax haven with a "propensity for hiding billions." Jersey's offshore finance industry dates back to the 1950s, originally exploiting an inheritance tax loophole to allow millionaires to bequest money tax-free. The industry boomed in the 1970s, and by 2007, Jersey—home to just 100,000 people—held almost £220 billion of deposits and administered another £221 billion of funds, as well as hundreds of billions in trusts.
It was at this location that, circa 1990, HBJ incorporated three trust vehicles reportedly called "Yaheeb Trust," "Yaheeb No. 2 Trust," and "Havana Trust".
In July 2000, during the takeover of a Jersey bank called ANZ Grindlays Trust by another firm called Standard Chartered, a senior Standard Chartered employee stumbled across strange payments worth almost £7 million by the arms dealer British Aerospace, now known as BAE Systems, into the Havana and Yaheeb trusts. (SOURCE and SOURCE)
Under a 1999 law introduced in Jersey to crack down on money laundering, banks must report any transaction suspected of being the proceeds of crime. The Standard Chartered employee filed a suspicious transaction report in July 2000. But he could not have guessed his diligence would lead to a major diplomatic row and one of Britain's biggest ever commercial bribery investigations—overseen personally by Jersey's Attorney General.
Jersey Investigation
Detectives from Jersey's financial crime unit quickly discovered the ultimate beneficiary of these secretive trusts was the Foreign Secretary of Qatar, HBJ, cousin of the then-Emir of Qatar and a man of huge wealth and influence throughout the Persian Gulf.
Per news reports (HERE and HERE and HERE), investigators found more than £100 million in these trusts. They became concerned that "some of that amount, if not all, was the proceeds of bribes paid to the Sheikh by British and European defence arms manufacturers in return for lucrative contracts in his home country" (SOURCE). In turn, investigators discovered that the funds were "being used to purchase real estate and hotels around the world" (SOURCE).
Such personal commissions meant to induce advantageous treatment are called "sweeteners." Sweeteners alone were not a crime, however, because the events all took place before 2002, when British law belatedly banned companies and individuals from bribing foreign public officials. The United States, by contrast, has had such a law since 1977.
HBJ ("the Sheikh" or "Sheikh Hamad") denied any wrongdoing. However, he freely admitted "that he received substantial commissions from companies seeking to do business with the State of Qatar." He denied that these commissions were in the nature of bribes to secure government contracts. He claimed that his actions were authorized by his cousin, the Emir, and that he was not acting in conflict with his duty as Qatar's then-Foreign Minister. (SOURCE)
On 16 July 2000, the Jersey authorities froze the trusts, in operation for almost 10 years, while they investigated. Per The Guardian, Qatar's government reacted with fury and protested to the British government, rejecting all allegations of corruption or any other wrongdoing—and suspending talks on hundreds of millions of pounds of export orders.
Court Records
In the wake of the asset freeze, HBJ appealed to another legal venue, the Royal Court, in May 2001 to free up the frozen fortune. However, the police had refused to give their consent while the investigation was ongoing and Standard Chartered feared that if they followed their client's wishes they could be prosecuted for assisting a crime. Attorney General William Bailhache objected to the Royal Court appeal, noting there were "serious questions" as to the accuracy of the Sheikh's affidavits filed with the Royal Court. Bailhache further accused HBJ of "deliberate[ly] misleading" the court.
Attorney General Bailhache applied to the Royal Court for permission to cross-examine HBJ and in December 2001, the Attorney General won a legal victory to question HBJ about his trust vehicles and the source of the funds. The judge determined: "Bribery and corruption and misuse of public office for for gain are offences equally under the law of Qatar as under the law of Jersey. […] An investigation cannot be stifled because it is the cause of political embarrassment."

Reportedly, by the end of 2001, Qatari government insiders said the probe had brought relations between the UK and Qatar close to the "breaking point." But after September 11th, Qatar was an increasingly important strategic ally for Britain and the U.S. Diplomatic pressure to heal Qatari relations was becoming intense. Then, in a startling turn of events, Jersey's attorney general announced he was dropping the investigation at the end of May 2002.

The attorney general statement can be read HERE. In part, he attributes his decision to terminate the investigation to a lack of cooperation from other unnamed jurisdictions which would not provide necessary records and documents in a timely fashion. It is unclear if those jurisdictions included Qatar. But the attorney general also cited the major problem that HBJ may be protected from prosecution by diplomatic immunity as Qatar's then-Foreign Minister. The statement reads:

This would not be the last time that diplomatic immunity would save HBJ (aka "Sheikh Hamad") in a British court.
Ultimately, per the statement, HBJ agreed to pay £6 million to the Jersey government to cover investigatory costs and repair any "damage perceived to have been sustained in the events that have happened."
The Stolen Asset Recovery Initiative (StAR), a partnership between the World Bank Group and the United Nations Office on Drugs and Crime, has published a series of documents, including court materials, related to the Yaheeb trust investigation HERE.
---
The last post in this series (Part 4) will look at how offshore firms linked to HBJ have recently distanced themselves from the controversial Mossack Fonseca firm.
---
---