Posted: August 3rd, 2017
Sheikh Hamad bin Jassim Al Thani—commonly known by his initials "HBJ"—presided over the Qatar Investment Authority (QIA) sovereign wealth fund as its CEO from 2005 to 2013. Despite stepping down from his position as CEO in 2013, HBJ remains linked to QIA assets through a series of connections that often blur the distinction between the Qatari state and the Al Thani royal family. Today we will look at one example, Harrods, a luxury department store acquired by Qatar for £1.5 billion ($2.3 billion).
Harrods of London
Harrods is an exclusive luxury department store founded in 1834 and located in the high-end neighborhood of Knightsbridge in west London. Qatar Holding LLC acquired Harrods in 2010 for £1.5 billion ($2.3 billion).
Qatar Holding LLC is the prime vehicle for strategic and direct investments by the State of Qatar. It is an arm of Qatar Investment Authority (QIA).
As CEO of QIA from 2005 to 2013, Sheikh Hamad bin Jassim Al Thani presided over the purchase of Harrods in 2010 from the Egyptian billionaire Mohammed al-Fayed.
At the time of the acquisition, Ahmad al-Sayed, chief executive of Qatar Holding, told the Financial Times that the acquisition of Harrods was part of a strategy to acquire "prestigious top-performing businesses and to buy them at the right point in the cycle". He dismissed the idea that Qatar Holding was hunting trophy assets regardless of their price—a constant accusation in news accounts of QIA's UK acquisitions. "We are a financially driven institution and the first thing we look for in an investment is the return, we are not chasing trophy assets," he said.
Get the primary corporate data! Click here to view and download our Al Thani and QIA Asset List, a detailed compendium of hundreds of companies from dozens of countries.
In 2013, HBJ stepped down from his position as CEO of QIA. However, he did not leave his controlling position at the two QIA corporations that control Harrods. The two firms are Harrods Limited, which directly retains the asset, and a parent holding company called Harrods Group (Holding) Limited. The former entity is incorporated in the UK while the latter was incorporated in Qatar before registering to conduct business in the United Kingdom.
Per UK records, Harrods Group (Holding) Limited reports a single "person with significant control" over its operations: the QIA.
UK records, also identify a series of directors who include HBJ alongside other members of the Qatari royal family, including the current CEO of QIA named Sheikh Abdullah bin Mohammed bin Saud Al Thani. In the UK records, HBJ's occupation is identified as "State Minister".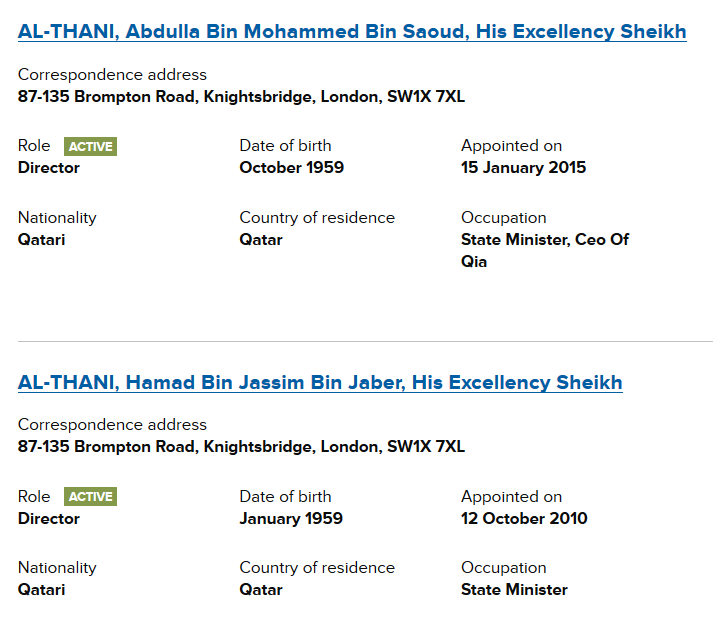 HBJ's referenced occupation as "State Minister" is disclosed in other filings. For example, Harrods Group (Holding) Limited's 2015 Annual Return also describes HBJ as a state minister of Qatar.
Harrods Group (Holding) Limited's submissions to UK regulators reveal that its immediate parent is QH Property Holdings Limited, a company incorporated in Bermuda and ultimately controlled by Qatar Holding LLC — a subsidiary of the QIA. The UK submissions also detail a series of Harrods Group (Holding) Limited's subsidiary firms.
Public records raise questions about HBJ's role in QIA, Qatar
These public records raise questions about HBJ's current role with QIA and the Qatari state. The corporate records show HBJ is still a director managing valuable QIA assets. The documents (from 2015) also identify HBJ as a "State Minister" but he left his roles as Prime Minister and Foreign Minister in 2013.
Furthermore, around the start of 2014, HBJ reportedly appeared on the UK's Foreign and Commonwealth Office diplomatic list as a "Minister-Counsellor" serving in Qatar's London embassy. He has remained on the diplomatic list ever since, including in the July 2017 version.
Additional records in the U.K. related to another reported QIA asset — Constellation Hotels — also shows documented ties to HBJ. Look for these findings in a forthcoming post.
Tagged: More on Qatar - Al Thani Family, More On Qatar - About the QIA, More on Qatar - Offshore Assets