Posted: August 7th, 2017
Sheikh Hamad bin Jassim Al Thani—commonly known by his initials "HBJ"—presided over the Qatar Investment Authority (QIA) sovereign wealth fund as its CEO from 2005 to 2013. Despite stepping down from his position as CEO in 2013, HBJ remains linked to QIA assets through a series of connections that blur the distinction between the Qatari state and the Al Thani royal family. We have previously examined the example of Harrods. Today we will look at another example, Constellation Holdings, a hotel holding company with €6.8 billion in assets.
Constellation Hotels
Constellation Hotels Holding Ltd S.C.A. is a Luxembourg holding company incorporated in March 2012. Through its sprawling subsidiaries, it has invested in at least eleven world-class hotels worth approximately $5 billion between 2013 and 2015.
Constellation Hotels is widely reported to be a QIA investment controlled via QIA's main acquisition vehicle called Qatar Holding LLC. Real estate investment manager Jones Lang LaSalle says so, as does the International Forum of Sovereign Wealth Funds, Forbes and the Financial Times.
But the European Commission provides a different take, describing Constellation Hotels Holding Ltd S.C.A. as "the main investment vehicle of a Qatari family group for the acquisition and ownership of hotels and real estate." This would appear to refer to the Al Thani royal family—the " absolute monarchy" that maintains a " tight grip on power" in the Gulf nation.
The conflation of QIA sovereign assets and the Al Thani family's personal interests is unsurprising. The United States government, in a diplomatic communication dated 2008 and publically divulged by WikiLeaks, writes: "the distinction between the State and the Al Thanis is thin, varying, and uncertain." Per the same communication: "On the domestic front, the [Emir] and a small circle of family members [make] all the major decisions in the country".
Sheikh Hamad bin Jassim Al Thani (HBJ) displays constant and continued connections to Constellation Hotels despite retiring from QIA. And despite abdicating from his throne, the seventh Emir of Qatar, Hamad bin Khalifa Al Thani is currently linked to the QIA's Constellation Hotels too.
Constellation Hotels Holding Ltd S.C.A. was incorporated in March 2012. According to public records, Constellation Hotels and its subsidiaries retain a corporate trustee firm called Fiduciaire Fernand Faber located at 15 Boulevard Roosevelt, L-2450, Luxembourg. The subsidiaries often feature an accountant named Jean Leon Fernand Faber, who claims to "specialize in Financial Engineering and International Tax". As of the end of 2015, Constellation Hotels Holding Ltd S.C.A. reported assets of nearly €6.8 billion according to an audited financial statement.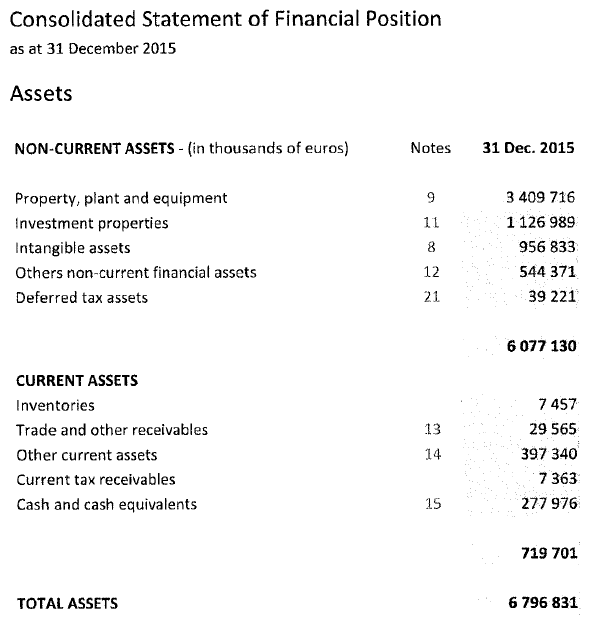 Soon after Constellation Hotels' March incorporation, in June 2012, HBJ joined the firm as one of its first directors. The other directors include three of HBJ's relatives, and all four Qatari royals remain with Constellation Hotels today.
The three relatives were HBJ's eldest son Jassim, HBJ's third-eldest son Mohammad, and a woman called Noor Abdulaziz Abdulla T. Al Subaie (born December 1978). Noor, according to one source, is alleged to be one of HBJ's wives. That source spells her name Nur bint 'Abdu'l Aziz al-Subaie and identifies her father as the former Minister of Education.
In all of the relevant corporate documents, HBJ and his family cite an address at the royal Al Wajba Palace in Doha, Qatar.
Documents filed after Constellation Hotels incorporation in March 2012 later revealed that it was owned 50-50 by Pioneer Holding S.A. and Regis Investment S.A. until September 2015. Pioneer Holding and Regis featured HBJ and the same relatives as directors.
Pioneer Holding appears to be a personal vehicle representing the interests of the Al Thani family. A Pioneer Holding subsidiary called Precision Capital SA disclosed in its corporate website that it represents the "private interests of members of the Al-Thani family of Qatar."
The other half of the Constellation Hotels ownership group, Regis Investment, is described in Luxembourg filings as a "tax resident under the law of Qatar" and is controlled exclusively by Qatari nationals and its place of management is in Qatar. Company records show that that HBJ and his two sons, Jassim and Mohammad, served as directors from 2014 to February 2017. If reporting is accurate that Constellation Hotels is controlled at least in part by the Qatar Investment Authority, then the QIA's stake in the hotel holding company likely comes from Regis Investment (considering that Pioneer Holding was a private Al-Thani family venture).
HBJ's Continued Role with QIA
Get the primary corporate data! Click here to view and download our Al Thani and QIA Asset List, a detailed compendium of hundreds of companies from dozens of countries.
In September 2015, Pioneer Holding was replaced by a new shareholder called Prime Capital S.A. Yet again Prime Capital was controlled by HBJ and his relatives — Jassim, Mohammad and Noor. A Prime Capital subsidiary based in the U.K. disclosed that Sheikh Hamad bin Jassim be Jaber Al Thani (HBJ) is the "beneficial owner of Prime Capital".
The interesting part of this ownership swap is that Prime Capital joined in 2015 — after HBJ had stepped down as an officer of QIA in 2013. HBJ held continued directorships at QIA's Constellation Hotels and both of its parents even after 2013. In that capacity, HBJ personally oversaw billions of dollars in QIA acquisitions.
Through Constellation Hotels' subsidiaries, HBJ has continued to oversee QIA's assets even after 2013. For example, three months after leaving the QIA in June 2013, HBJ was appointed as a director of Constellation Hotel (OpCo) UK S.A. on 6 September 2013. Constellation OpCo was the operating company linked to the Intercontinental Hotel Park Lane. HBJ remains a director today. Below is an excerpt of a UK document showing HBJ's link to Constellation OpCo.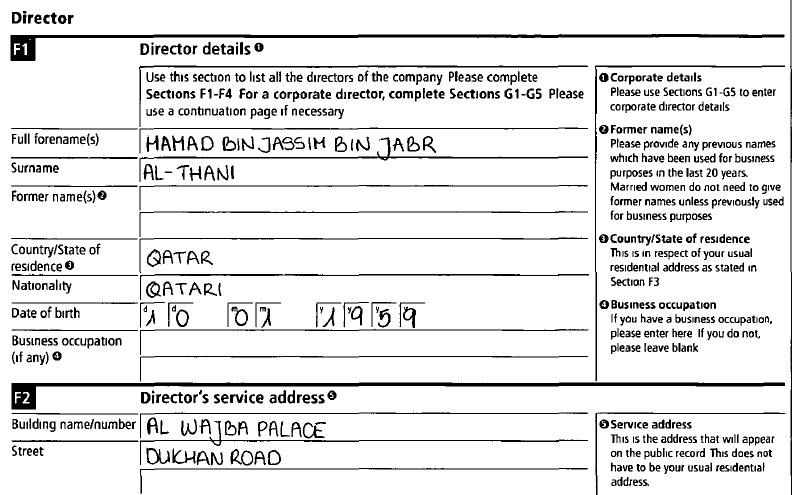 On the same day, 6 September 2013, three other "Category A" directors were appointed: HBJ's sons Jassim and Mohammad, along with his alleged wife Noor. All four remain directors today.
Just as in the case of the Intercontinental Hotel Park Lane in London, HBJ and his relatives touch other individual hotels under the Constellation Hotels umbrella including Claridge's, The Berkeley, and The Connaugh via Constellation Barclay UK Limited and Coroin Limited.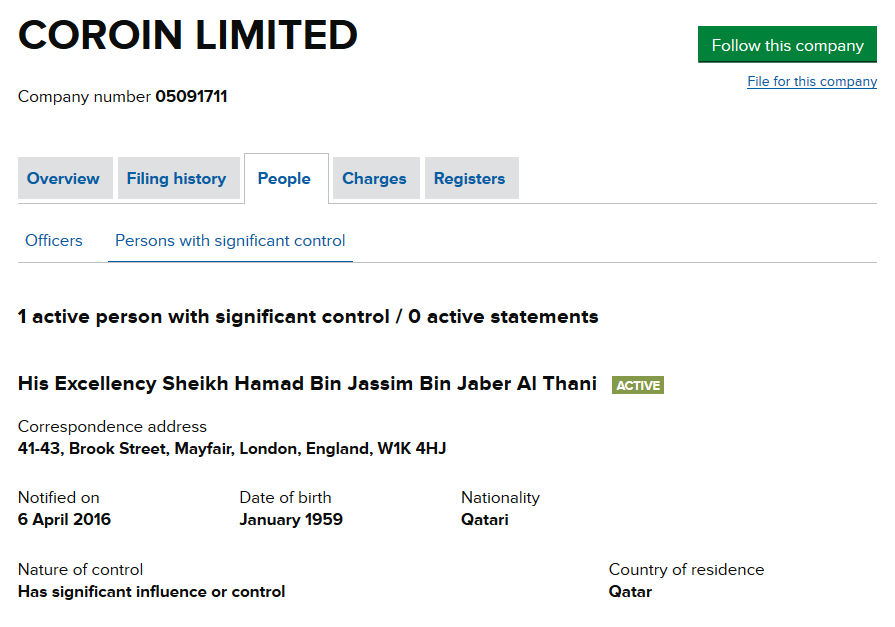 Enter: Emir Hamad Bin Khalifa
Finally, in February 2017, according to Luxembourg corporate records, HBJ and his family stepped down from Regis Investment, 50 percent shareholder of the Constellation Hotels holding company, to be replaced by another Qatari royal — HBJ's cousin and the former Emir of Qatar, Hamad bin Khalifa.

DE-Tenants.org is continuing to explore the vast holdings of the QIA and the Al Thani royal family. Check back regularly for more posts.
Tagged: More on Qatar - Al Thani Family, More On Qatar - About the QIA, More on Qatar - Offshore Assets