Posted: October 23rd, 2017
DE-Tenants.org is researching the business transactions and holdings of the Qatar Investment Authority and Qatari elites – particularly the country's ruling Al-Thani family. Previously (Part 1, Part 2, & Part 3), we detailed how investments made by a Qatari royal Mohammed Bin Khalifa Al-Thani into Icelandic bank Kaupthing were actually financed by proceeds of a loan made by Kaupthing to Al-Thani. The loan and reinvestment prompted an investigation by Icelandic authorities into Kaupthing bankers (but not Al-Thani). Bankers were ultimately indicted and convicted.
Today's brief post looks at how the Panama Papers database, established from leaked offshore documents acquired and posted online by the International Consortium of Investigative Journalists (ICIJ), offers insight into the Kaupthing bank affair.
Al-Thani offshore entities referenced in Panama Papers
The indictment narrative for Kuapthing bank details how on 19 September 2008, Kaupthing's CEO Hreidar Mar Sigurdsson arranged that a dollar-denominated loan of US$50 million be paid into a Kaupthing account belonging to Brooks Trading Limited, an offshore British Virgin Islands (BVI) company owned in turn by another BVI firm called Mink Trading Corp. Mohammed Bin Khalifa Al-Thani was the beneficial owner of both firms.
The entities both appear in the ICIJ Panama Papers (Brooks Trading / Mink Trading). Both, according to ICIJ data, were incorporated in the BVI on 18 July 2008 – just two months before the initial Kuapthing loans. Below are image excerpts for the entities, as shown in the ICIJ platform.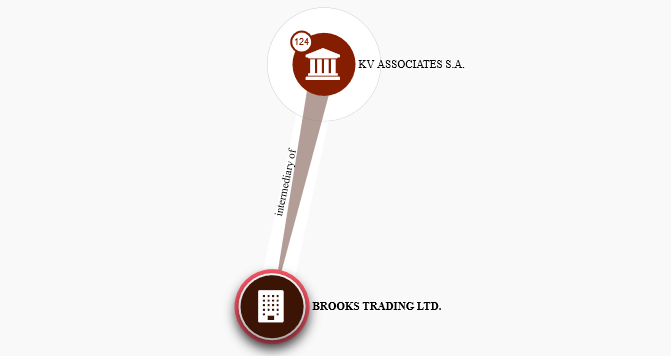 After the initial $50 milion loan from Kuapthing to Al-Thani-controlled BVI firms, the Iceland bank authorized a second loan (roughly US$270 million at the time) to another Al-Thani offshore entity, Serval Trading Group Corp. – also incorporated in the BVI on 18 July 2008. Below is data from the ICIJ Panama Papers on this firm.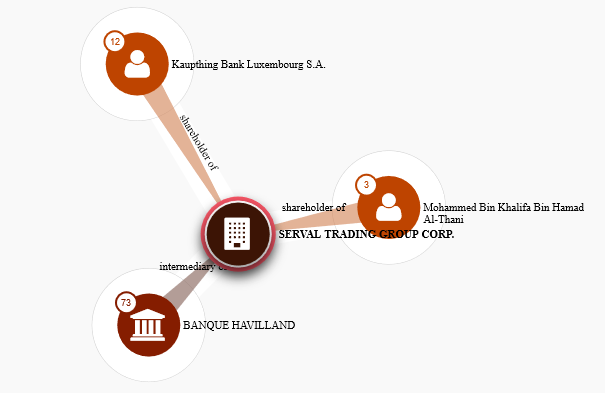 Panama Papers turns up numerous Qatari elites
DE-Tenants.org has already begun the process of cataloging Qatari Al-Thani members referenced in the ICIJ's Panama Papers. Combing through the offshore data, we have already identified 20 distinct officers with the Al-Thani name based Qatar and connected to 24 corporations.
For instance, records from the firm Yalis, S.A. show that in one Panama-based firm, Qatar's former Emir and former Prime Minister were joint owners.

Offshore companies linked to Qatar's former Prime Minister, Sheikh Hamad bin Jassim bin Jaber Al Thani (known by his initials "HBJ"), trace to a $300 million "Super-Yacht," as well as at least four companies tied to Luxembourg bank accounts.
Another HBJ offshore accounts identified in the Panama Papers led to a £100 million fortune in the British tax haven of Jersey. A government investigation in Jersey during the early 2000s was prompted over the accounts and their funding origins. However, Jersey's attorney general announced he was dropping the investigation at the end of May 2002. Ultimately, though, HBJ agreed to pay £6 million to the Jersey government to repair any "damage perceived to have been sustained in the events that have happened."
---
DE-Tenants.org is continuing to review the assets and dealings of Qatar's sovereign wealth fund and the country's ruling elite. Check back for more.
---
---