Posted: September 12th, 2017
Qatar's sovereign wealth fund, controlled by the country's ruling Al-Thani family, purchased a 20% stake in the Hong Kong premium retail operator Lifestyle International Holdings Ltd. for U.S. $600 million in October 2014. It was one of the Qatar Investment Authority's (QIA) most visible moves in the greater China region.
The QIA, via its subsidiary Qatar Holding, currently retains a 23.05% interest in the Lau-family controlled Lifestyle International. Thomas Lau and his family hold a 51.69% stake (see Part 2 of this series).
Joseph Lau and Lifestyle International
While Thomas Lau is the chairman and largest shareholder of Lifestyle International – the QIA investment – his brother, Joseph, is also referenced in the firm's Hong Kong stock filings. One of the Lau family-controlled shareholding entities for Lifestyle International, United Goal Resources Limited, is linked to Joseph Lau. The company's 2016 Annual Report filing disclosed that "United Goal is ultimately owned as to 80% by Mr. Thomas Lau through Asia Prime Assets Limited ("Asia Prime") and as to 20% by certain family members of Mr. Lau Luen Hung, Joseph." Joseph Lau and his family are also linked to a HK$8 billion (over U.S. $1 billion) loan facility for Lifestyle International, according to the report:
"The Company as guarantor and through its wholly-owned subsidiary as borrower entered into during the year a HK$8 billion 5-year secured loan facility agreement with a group of banks. Under the said facility agreement, unless with the banks' written consent, Mr. Thomas Lau, his family members and/or his family trust arrangements and Mr. Lau Luen Hung, Joseph's family members and/or his family trust arrangements shall remain the major shareholders of the Company with shareholding interest, directly or indirectly, of not less than 50.1% and retain management control of the Group."
As we detailed in a previous post ("Thomas Lau, Insider Trading"), Thomas Lau was found guilty of "Insider Trading" by a Hong Kong government tribunal in 2006. Lau appealed the Tribunal's findings through several layers of the Hong Kong court system, but in December 2009, Hong Kong's Court of Final Appeal ruled in favor of the government, ending Lau's case.
Macau Government Files Criminal Bribery, Money Laundering Charges Against Joseph Lau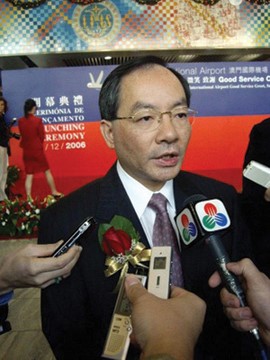 Just three years after the final resolution of Thomas Lau's "Insider Dealing" case, Joseph Lau's name surfaced in April 2012 at a corruption trial involving Ao Man Long, the one-time Secretary of Land and Public Works of Macau – China's other Special Administrative Region, a former Portuguese colony and home to the world's largest gambling scene. The Macau court, according to Forbes reporting, heard that a company controlled in part by Joseph Lau "allegedly paid a bribe of 20 million Hong Kong dollars ($2.6 million) to Ao in his role as Secretary for Transport and Public Works in 2005 that allowed the pair to acquire land on the Cotai Strip, opposite Macau's airport." The land site in question was developed by Joseph Lau's firm Chinese Estates (of which Thomas Lau formerly served as CEO before his Insider Trading conviction forced his resignation).
In early May, Joseph Lau's brother, Thomas – head of Lifestyle International – was referenced in the case proceedings. The South China Morning Post reported on 03 May that "Hong Kong tycoon Thomas Lau Luen-hung was named in Macau's top court for the first time yesterday as having co-signed a HK$20 million cheque paid to jailed former transport chief Ao Man-long." The SCMP further reported:
"The Macau Court of Final Appeal was told that Ao had met tycoons Steven Lo Kit-sing or Joseph Lau Luen-hung - Thomas's older brother - or both, at least 11 times between 2005 and 2006 over the sale of five plots of land opposite the Macau airport.

Three Macau Independent Commission Against Corruption investigators made a Powerpoint presentation of an extensive range of documents confiscated from Ao's former home in late 2006 and other exhibits.

They were displayed in a five-hour session of Ao's trial on charges of bribery and money laundering.

Among the documents was a HK$20 million 'consultancy fee' cheque co-signed by Thomas and Joseph Lau in October 2005 to Eastern Base, a Macau company set up by Lo. The money was subsequently passed to Ecoline, a company controlled by Ao, after the sale of the airport land."
Later in May 2012, the Macau government filed criminal charges against Joseph Lau (not Thomas) for bribery and money laundering. The South China Morning Post later reported that Joseph Lau, who faced trial in Macau, "strenuously denies the allegation levelled against him," and prepared to mount a legal defense. The paper noted that under Macau law, "the penalty for offering a bribe to a public servant is three years in jail, and between five and 12 years for money laundering." The South China Morning Post would later, in June 2012, publish an extensive investigatory piece on the Joseph Lau Macau case (titled "Macau's big scam"), reporting on details from Ao Man Long's personal notebooks confiscated by government authorities.
Joseph Lau Tried in Macau, Found Guilty
The Joseph Lau bribery and money laundering case in Macau was delayed multiple times due to Lau claiming illness. Lau sought in June 2013 to be tried in absentia, staying in Hong Kong for the criminal proceedings in Macau.
The trial eventual proceeded with Lau remaining in Hong Kong. By March 2014, the Macau court had reached a verdict: guilty. The South China Morning Post reported:
"After a two-year trial punctuated by delays, sickness and an unprecedented change of judge, Lau and Lo were found guilty of offering a bribe to Ao in return for five plots of prime land over-looking one of the world's most lucrative stretches of land - Macau's glitzy Cotai Strip - for a luxury housing development, La Scala."
The Macau court sentenced Joseph Lau to a five-year, three-month jail term. However, the SCMP was quick to note that Lau was "unlikely to spend any time behind bars because Macau does not have an extradition treaty with Hong Kong."
"Fugitive Tycoon" Avoiding Jail Time

The criminal conviction against Joseph Lau stands in Macau, yet he has, to date, spent zero days in a Macau jail cell. Occasionally, stories will surface in the press about an extradition treaty between the two Special Administrative Regions that could imperil Lau. For instance, in January 2015, the South China Morning Post wrote that an "upcoming extradition treaty between Hong Kong and Macau may apply to cases predating the agreement even if no specific retroactive clause is written into it." Such a treaty, the paper reported, "could let Macau finally mete out justice to two Hong Kong tycoons its courts convicted in March - Joseph Lau Luen-hung and Steven Lo Kit-sing" (Steven Lo was also convicted in Macau of criminal charges related to the land case).
But still, Joseph Lau stayed in Hong Kong, a free man living a billionaire's lifestyle.
In February 2016, the South China Morning Post again reported that "Fugitive tycoon Joseph Lau Luen-hung could serve time in a Macau jail under a yet to be agreed landmark deal between the city and Hong Kong." If the treaty contained a "retroactive component," and the verdict still effective, Macau's Secretary for Administration and Justice stated, the territory could seek extradition.
A year-and-a-half later, Joseph Lau continues to avoid prison in Macau, although he has hardly avoided the spotlight in Hong Kong with news of his personal life splashing across news pages with regularity.
---
We will revisit the Lau family behind Lifestyle International, taking a closer look at some of their other business attempts in Macau.
---
---