Posted: September 14th, 2017
DE-Tenants.org is updating its Douglas Emmett Building Database, identifying office properties that feature an iteration of the Proposition 65 notification, usually placed as a sticker on the front door entrance before the lobby. While there are variations of the verbiage, generally, the sticker states:
"This building contains detectable amounts of chemicals known to the State of California to cause cancer, birth defects or other reproductive harm."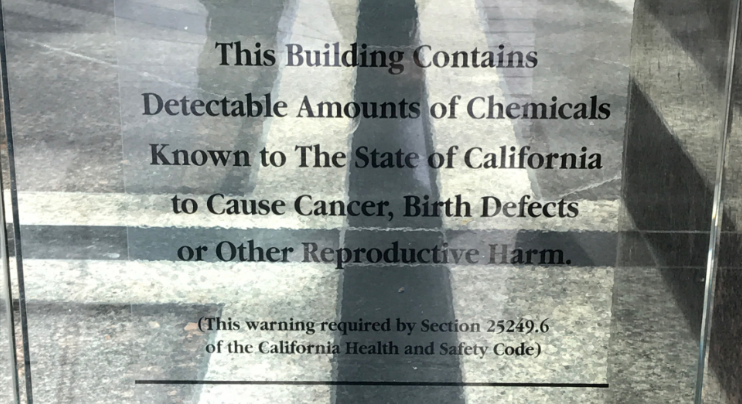 Douglas Emmett Building Database
So far, we have identified 18 buildings among Douglas Emmett's office portfolio that feature a version of the sticker above. Readers can now search in the Building Database to see which are "Prop 65" buildings. Our interactive map is available below. Click on a building to see data on Prop 65, leases, litigation, building permits, ownership, financing, environmental reports, and the identity of property management, among other publicly-available information.
What is Proposition 65?
California's Office of Environmental Health Hazard Assessment (OEHHA), which is a part of the California Environmental Protection Agency, offers a useful primer on the voter-approved Proposition 65.
In 1986, California voters approved an initiative to address their growing concerns about exposure to toxic chemicals. That initiative became the Safe Drinking Water and Toxic Enforcement Act of 1986, better known by its original name of Proposition 65. Proposition 65 requires the State to publish a list of chemicals known to cause cancer or birth defects or other reproductive harm. This list, which must be updated at least once a year, has grown to include approximately 800 chemicals since it was first published in 1987.
The Proposition is engraved into the California State Code (25249.6), requiring "businesses to notify Californians about significant amounts of chemicals in the products they purchase, in their homes or workplaces, or that are released into the environment."
Prop 65 chemical list include asbestos, a chemical referenced in DE public filings
The OEHHA offers a list of "Chemicals Considered or Listed Under Proposition 65." One such chemical is "asbestos."
The Prop 65 sticker on Douglas Emmett buildings does not, to our knowledge, specifically identify the relevant chemical(s) in any given building.
However, buried deep in Douglas Emmett's Annual Report (10-K filing) submitted in February 2017 to the U.S. Securities and Exchange Commission the company discloses the following information about its real estate portfolio:
Environmental site assessments and investigations have identified twenty-five buildings in our Consolidated Portfolio, and four buildings owned by our unconsolidated Funds which contain asbestos, and would have to be removed in compliance with applicable environmental regulations if these properties are demolished or undergo major renovations.
29 Douglas Emmett buildings in total that "contain asbestos."
The Environment Protection Agency notes that "Asbestos that is in good condition and left undisturbed is unlikely to present a health risk. The risks from asbestos occur when it is damaged or disturbed where asbestos fibers become airborne and can be inhaled." According to the South Coast Air Quality Management District, "Asbestos is a carcinogen and is categorized as a hazardous air pollutant by the Environmental Protection Agency (EPA)."
---
DE-Tenants.org is currently working to identify which buildings in Douglas Emmett's commercial portfolio contain asbestos. Look for more research shortly.