Posted: November 29th, 2017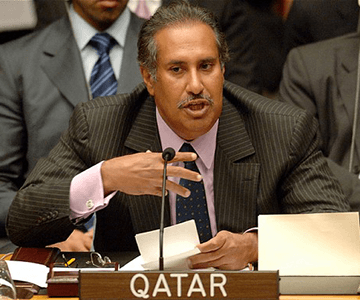 DE-Tenants.org is examining how Qatar's former Prime Minister Hamad bin Jassim bin Jaber Al Thani (known as HBJ) endeavored to aide Pakistan's former Prime Minister Nawaz Sharif during Sharif's corruption and money laundering trial in Pakistan. HBJ was not implicated in the case, but his actions ultimately discredited him in the eyes of Pakistani court.
Qatari Partners Emerge and HBJ Intervenes
During an affidavit of onetime Pakistani Prime Minister Nawaz Sharif's cousin, Muhammad Tariq Shafi, dated 20 January 2017, Shafi added new elements to the family's account of how they generated millions to purchase luxury properties in London.
In a "stark contradiction" (Volume I, page 27) from earlier testimony, the 20 January affidavit revealed that the millions generated from the sale of the Dubai-based business Gulf Steel had been re-invested with Qatari partners—members of the Al Thani royal family. The second affidavit stated that the United Arab Emirates 12 million (AED 12 million) was deposited by Tariq Shafi, in cash, with a Qatari prince named Fahad bin Jassim bin Jaber Al Thani.
Fahad bin Jassim bin Jaber (also spelled Fahd bin Jasim bin Jabor) is the deceased elder brother of Hamad bin Jassim bin Jaber Al Thani, the former Prime Minister of Qatar (2007 to 2013) and the former CEO of Qatar Investment Authority (2005 to 2013).
Because Fahad is dead, Hamad bin Jassim (often known in the press by his initials "HBJ") offered to submit written statements to the JIT to corroborate the claims made in Tariq Shafi's second affidavit. Nawaz Sharif's political party, Pakistan Muslim League-Nawaz (PML-N), was adamant that the JIT should allow HBJ to enter his statements into record, otherwise the party would not accept the findings of the Joint Investigation Team.
The JIT did permit HBJ to submit letters documenting his account. However, the JIT determined HBJ's claims that the AED 12 million had been re-invested with the Qataris were false, inconsistent with past practice, and not corroborated by any documentary evidence.
The JIT concluded that "payment of 12 million Dirhams cash to Mr. Fahad Bin Jassim Bin Jaber Al Thani, which is claimed to be the source money for setting up the various businesses and ultimate ownership of Avenfield Apartments of the Sharif family" is "a myth and not a reality." (Volume I, page 28)

HBJ's Statements Discredited
The Joint Investigation Team described HBJ's letters as "the final defence and explanation of [the Sharif family] of how the sale proceeds of Gulf Steel, invested with the Royal family of Qatar in 1980, not only resulted in the Avenfield apartments becoming the property of Sharif family, but practically all other businesses that were set up by the father or sons of the Prime Minister Mian Muhammad Nawaz Sharif, abroad, after two decades."
As the family's "final defence" for justifying its sizeable wealth, HBJ's letters were heavily scrutinized by the JIT. The story the letters told of an AED 12 million investment was ultimately discredited and determined to be "a myth and not a reality." (Volume I, page 28) In spite of the letters' representations, the Sharif family "failed to produce any document/record or evidence before the JIT to corroborate contents of Qatari letters" (Volume I, page 78) there was no record of the sale of Gulf Steel Inc. for AED 12 million, nor could anyone produce records or receipts to prove that AED 12 million was transferred to Al Thani. (Volume I, page 20 and page 28) The JIT determined that "lack of documentation for such a sizeable investments is implausible." (Volume I, page 81)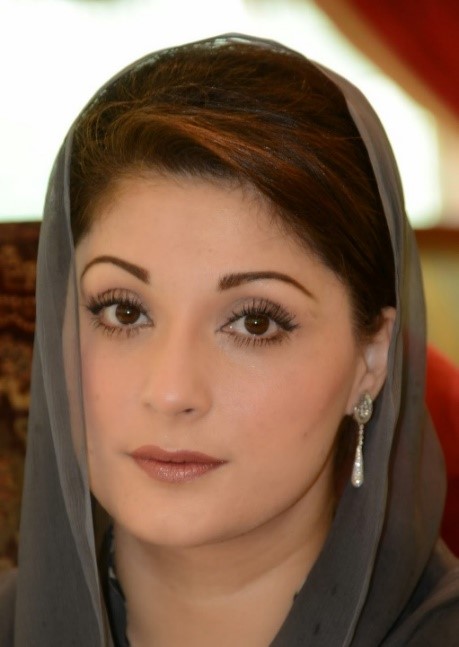 HBJ's first letter dated 5 November 2017 (Volume V, page 25) explained the Al Thani family had accepted an AED 12 million investment by the Sharif family. However, the statements were deemed hearsay by the JIT. For example, HBJ wrote: "I was informed that during the year 1980, Mr. Mian Muhammad Sharif [the Pakistani Prime Minister's father] expressed his desire to invest a certain amount of money in real estate business of [the] Al Thani family in Qatar." (emphasis added) He continued: "I understood at the time, that an aggregate sum of around 12 Million Dirhams (AED 12,000,000) was contributed by Mr. Mian Muhammad Sharif, originating from the sale of business in Dubai, UAE." (emphasis added)
The second letter dated 22 December 2016 (Volume V, page 26) elaborated by explaining the investment was made in cash "which was common practice in the Gulf region at the time." The JIT balked, stating that "lack of documentation for such a sizeable investments is implausible." (Volume I, page 81)
According to HBJ, the investment was disbursed to the Sharif family subsequently in 2005. According to both letters, as part of the disbursement, bearer shares for Nescoll Limited and Nielsen Enterprises Limited were transferred to Nawaz Sharif's son Hussain. With the bearer shares came control of the two corporate entities and their assets, four apartments in the upscale Park Lane neighborhood of London. So HBJ and the Sharif family maintained.

Based on a myriad of evidence, the JIT strongly disagreed: "the story of bearer certificate[s] being handed over from Al Thani to [the] Sharifs is totally false and cooked up." (Volume I, page 89) The most critical piece of evidence was "falsified documents [intended] to hoodwink the [Supreme] Court" (Volume I, page 89). Explored at length in Volume IV of the JIT report, the Sharifs submitted Declarations of Trust pertaining to the control of Nescoll and Nielsen Enterprises, and thus the four London apartments.
Doubt was cast on the documents by a forensic expert because the documents were signed February 2006 and typed in Calibri font which was not commercially available until January 2007. This episode was termed "Fontgate" in the press. The forged documents reflected Maryam's attempt to avoid implication in the scandal so as to salvage her prospective political career as her father's successor by claiming her brother Hussain owned the apartments.
HBJ provided an Excel spreadsheet alongside his letter, which he claimed showed the Sharifs family's total investment returns by year. However, the spreadsheet was found inadmissible as evidence. In addition to its being uncorroborated by official sources or any documents or banking transactions, the JIT noted that the spreadsheet "seems artificial" (Volume I, page 90), and found that it had "been constructed as an afterthought to artificially connect missing dots in [the] money trail" " (Volume I, page 95).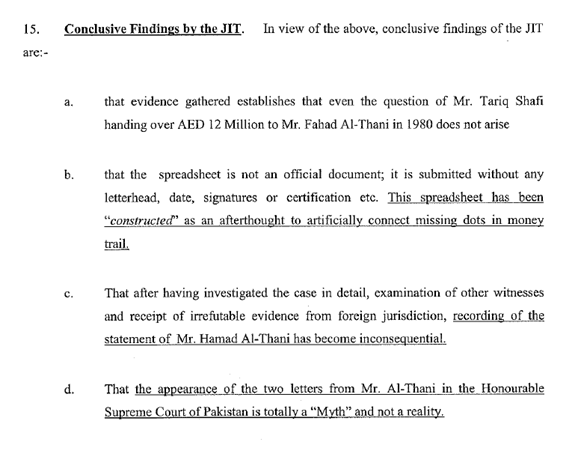 In addition, HBJ's behavior after sending the letters to Pakistan's Supreme Court raised doubts about his story. JIT investigators sought to interview HBJ "to ascertain the veracity of the contents of the letters" and "[s]pecial arrangements were made to ensure timely delivery of summons to [HBJ]" but his response "remained wanting and lacked urgency." "He was given adequate time and multiple opportunities to appear before JIT (even [in] Qatar), but to no avail." (Volume I, page 96)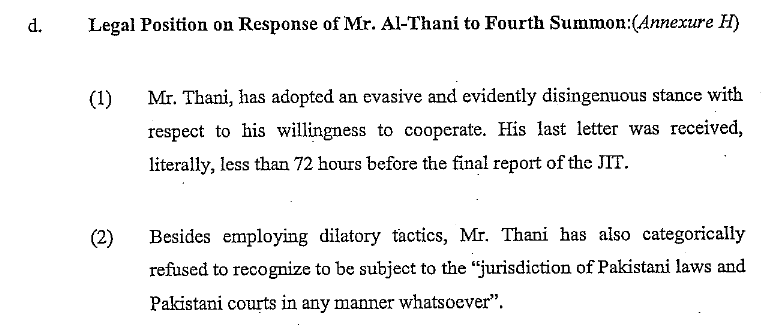 According to the JIT report: "Mr. Thani has adopted an evasive and evidently disingenuous stance with respect to his willingness to cooperate" (Volume I, page 99), refusing to provide documentation to support his claims, refusing to appear in front of the JIT, and refusing to respond to inquiries in a timely manner. This "evasive" behavior was enough to disqualify his testimony. According to the investigation report, the court came to the conclusion that "this whole episode of avoidance […] can only be seen as a tactical move to keep the defence of the respondents alive." (Volume I, page 100)
The investigation eventually came to the conclusion that the investment described in Al Thani's letters never happened: "On the strength of the overwhelming documentary evidence it is concluded that the appearance of letters of [the] Qatari prince [Hamad bin Jassim Al Thani] are totally a myth." (Volume I, page 95)
Nawaz Sharif Ousted, Disgraced, and Indicted
The JIT ultimately determined that Prime Minister Nawaz Sharif was drawing income from a number of business ventures despite his claims that he had divorced himself from the family businesses after he entered politics.
Nawaz Sharif and his family were found to have assets disproportionate to their known means of income. According to the report:
"An exorbitant hike in buildup of [Nawaz Sharif's] assets is observed during his first tenure of premiership, however, inflows mentioned in his tax returns [are] not commensurate with his growth, which leads to the presumption that this [business] empire was not based on legal monetary sources. […] [D]espite the adverse financial position of all closely held family businesses, [Nawaz Sharif] had phenomenal growth in accumulation of wealth by his direct family and other shareholders of the company, which were also his family members." (Volume I, page 226 and 227)
In a unanimous verdict, Prime Minister Nawaz Sharif was removed from office by Pakistan's Supreme Court on 28 July 2017. In addition, the court disqualified him from holding office for ten years.
The justices, drawing on a constitutional article that allows the courts to disqualify a member of Parliament who is found to be dishonest, said that they were acting because Nawaz Sharif had tried to conceal his assets. And they ordered the opening of a criminal investigation into the Sharif family.
The National Accountability Bureau, Pakistan's top anti-corruption body, filed criminal corruption cases against Sharif and his three children on 31 July 2017. If found guilty, he could serve at least seven years in prison.
In October 2017, the criminal corruption probe resulted in indictments against Nawaz Sharif along with his daughter Maryam and Maryam's husband, Muhammad Safdar.
---
---