Posted: November 28th, 2017
Qatar's sovereign wealth fund, the Qatar Investment Authority (QIA), controlled by the Qatari royal family, Al-Thani, has a multi-billion dollar joint venture with Los Angeles County-based commercial real estate owner Douglas Emmett, Inc.
DE-Tenants.org is continuing its research into the Al-Thani family in its ventures outside its Douglas Emmett partnership.
Today's update is about one of the politicians toppled in the aftermath of the Panama Papers—Pakistan's Prime Minister Nawaz Sharif. In July 2017, Pakistan's Supreme Court issued a decision to dismiss Nawaz Sharif based on corruption and money laundering accusations stemming from the Panama Papers. In October 2017, Nawaz Sharif along with his daughter and son-in-law were indicted for corruption. Sharif's disgrace came despite attempts by Qatar's former Prime Minister Hamad bin Jassim bin Jaber Al Thani to defend the Sharif family—attempts which ultimately discredited Al Thani in the eyes of Pakistan's Supreme Court.
Panama Papers Lead to Luxury London Properties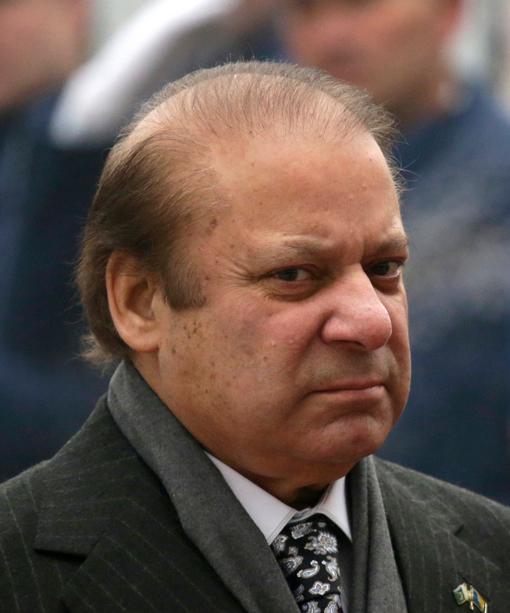 In 2016 the International Consortium of Investigative Journalists published the Panama Papers, a massive trove of 11.5 million leaked documents from a controversial Panamanian law firm called Mossack Fonseca, which specialized in setting up corporate vehicles in offshore jurisdictions for wealthy clients.
The Panama Papers exposed 140 politicians from more than 50 countries connected to offshore companies in 21 tax havens. The ICIJ's reporting on the Panama Papers won a Pulitzer Prize and embarrassed governments across the globe (see HERE, HERE, HERE and HERE), finally spurring some nations to take action.
DE-Tenants.org has itself been utilizing the Panama Papers to detail holdings by Qatar's Al-Thani family (see HERE, HERE, HERE and HERE).
Among the 214,488 offshore companies disclosed in the Panama Papers database, four of these offshore companies were identified as Nescoll Limited, Nielsen Enterprises Limited, Coomber Group Inc., and Hangon Property Holdings Limited. The four firms traced back to the children of the then-Prime Minister of Pakistan, Mian Muhammad Nawaz Sharif ("Nawaz Sharif"). Specifically, two of these companies owned four luxury apartments in the upscale Park Lane neighborhood of London—properties which many thought should have been "beyond the means" of a politician's family.
On 1 November 2016, the Supreme Court of Pakistan began to investigate how these apartments were acquired. To conduct the enquiry, the court formed what it called the Joint Investigation Team (JIT) with high-ranking representatives from numerous Pakistani government institutions, including the nation's intelligence services.
One of the key objectives of the JIT was to determine the origin of the funds used to purchase the luxury homes. Nawaz Sharif's children maintained that the companies were set up with legally obtained money, but critics suspected otherwise.
Nawaz Sharif's daughter Maryam Sharif, once seen as his likely political successor, was listed as the owner of two British Virgin Islands-based shell companies—Nescoll Limited and Nielsen Enterprises Limited—which were set up in the early 1990s, just after her father's first term as Prime Minister ended. Nielsen Enterprises Limited and Nescoll Limited acquired four luxury properties in London between 1993 and 1996 according to BBC Urdu and Dawn, Pakistan's oldest and most widely read English-language newspaper.
Nawaz Sharif's family claimed that the capital used to purchase the apartments came originally from Nawaz Sharif's father's sale of a 25% stake in a Dubai-based business called Gulf Steel in 1980. Gulf Steel and its assets became the cornerstone explanation for the family's funds. However, the family failed to provide corroborative documents and the JIT ultimately determined that this account was "false and fabricated." (JIT Report, Volume I, page 13)
Nawaz Sharif was not directly involved in the business interactions detailed in the Panama Papers, but he was implicated in the scandal nonetheless. By his own admission to JIT investigators, the "Sharifs are well-knit, closely associated and a deeply interdependent monolithic family" headed by Nawaz Sharif as patriarch. The JIT determined "it is fair to conclude that Gulf Steel Mills was also a family venture for the benefit of the whole family." (Volume I, page 30)
Throughout Supreme Court hearings, Nawaz Sharif maintained that he was not involved in the transactions. But political rivals from Pakistan Tehreek-i-Insaf, a political opposition party in Pakistan founded in 1996 by former national cricket captain Imran Khan, have alleged that Prime Minister Nawaz Sharif was the true owner of the London properties. Tehreek-i-Insaf's lead counsel noted in court that Maryam was only 19-years-old at the time of the first property acquisition in 1993, alleging that she was only made a beneficiary of the property "for show".
Further Details
Nawaz Sharif's father's allegedly sold a 25% stake in a Dubai-based business called Gulf Steel in 1980 for 12 million United Arab Emirates Dirham (AED). Gulf Steel and its assets became the cornerstone explanation for the family's funds. Per the family's account, the AED 12 million were subsequently re-invested with Qatari partners (members of the Al Thani royal family) to generate even more wealth. This wealth accounted for the luxury London properties (Volume I, page 28).
In support of this account, Nawaz Sharif's cousin, Muhammad Tariq Shafi, offered two affidavits to the JIT explaining the family's position as the sole witness because he supposedly presided over the relevant transactions during the 1970s and 1980s. However, the affidavits were deemed by the JIT to be "factually incorrect, speculative, tampered and misleading" and "hence [they] cannot be relied upon" (Volume I, page 4). Tariq Shafi and the family failed to provide corroborating documents such as receipts for the transfer of AED 12 million or contemporaneous tax records documenting the Gulf Steel assets. The JIT determined that "it is proved beyond doubt that the story about sale proceeds with 12 million Dirham is false and fabricated." (Volume I, page 13) The JIT concluded that the documentary and circumstantial evidence in the case "do not indicate any cash payment" (Volume I, page 27). And the JIT also found Tariq Shafi's affidavits "false and misleading" and complained of his "tainted reputation" (Volume I, page 40).
The JIT accused Tariq Shafi of "consciously veiling the evidence and possibility of its access by JIT." (Volume I, page 4)
The JIT accused Tariq Shafi, of deliberately keeping details vague "to leave room for any subsequent change in stated position." (Volume I, page 16) One such subsequent revision was the involvement of Qatari partners who allegedly helped re-invest the AED 12 million.
Originally, in his first affidavit Tariq Shafi made no mention of the Qatari connection and did not disclose that the AED 12 million was passed to Qatari partners for re-investment. The JIT concluded that this account was an afterthought: "[The] Qatari factor was an afterthought by Respondents, which was later covered up/addressed by Mr. Tariq Shafi in his second Affidavit." (Volume I, page 17)
---
Our next post in this series looks at the role played by Hamad bin Jassim bin Jaber Al Thani, the former Prime Minister of Qatar (2007 to 2013) and the former CEO of Qatar Investment Authority (2005 to 2013), in this affair.
---
---