Posted: July 24th, 2017
Former Prime Minister of Qatar (2007 to 2013)
Foreign Minister of Qatar (1992 to 2013)
Former CEO of Qatar Investment Authority (2005 to 2013)
Born in 1959, Sheikh Hamad bin Jassim bin Jaber bin Mohammed bin Thani Al Thani—commonly known by his initials "HBJ"— is a leading member of the royal family. He served as Foreign Minister from 1992 to 2013, and Prime Minister from 2007 to 2013. He also presided over the Qatar Investment Authority sovereign wealth fund as its CEO from 2005 to 2013.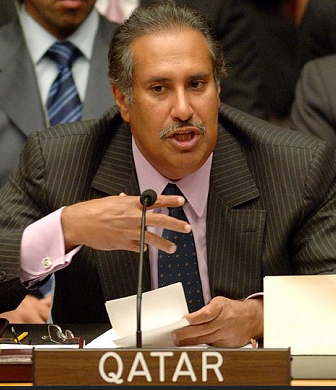 HBJ ruled over Qatar as an effective co-equal to his cousin, the former Emir Hamad bin Khalifa Bin Hamad Al Thani, until June 2013, when both men resigned in a politically orchestrated détente. Subsequently Hamad bin Khalifa's son, Tamim bin Hamad Al Thani, ascended to the throne as the eighth Emir. The former Emir of Qatar summed up HBJ's power with a quip: "I may run this country, but he owns it."
Despite stepping down from his positions in government in 2013, HBJ remains a diplomat representing the Qatari nation, and he remains linked to Qatar Investment Authority assets.
Around the start of 2014 he reportedly appeared on the UK's Foreign and Commonwealth Office diplomatic list as a "minister-counsellor" serving in the London embassy. He has remained on the diplomatic list ever since, including in the July 2017 version.
Sheikh Hamad remains linked to Qatar Investment Authority assets including Intercontinental Park Lane Hotel, Claridge's Hotel and Harrod's luxury department store, all in London.
HBJ is the fifth son of Jassim bin Jaber Al Thani. HBJ was married to Jawaher Al Thani from 1973 to 2005. HBJ married his current wife, Aljohara bint Fahad, in 2008. He has 15 children. ( SOURCE)
Another source alleges a third wife named Nur bint 'Abdu'l Aziz al-Subaie, also known as Noor Abdulaziz Abdulla T. Al Subaie.
HBJ has an estimated personal net worth of over £7.8 billion ($12 billion). And despite relinquishing his government positions in 2013, HBJ never relinquished his reputation for aggressive deal-making.
HBJ in the Panama Papers
HBJ was also discovered in the Panama Papers, a massive trove of 11.5 million leaked documents from a controversial Panamanian law firm called Mossack Fonseca. The Panama Papers exposed over 140 politicians from more than 50 countries connected to offshore companies in 21 tax heavens.
The International Consortium of Investigative Journalists (ICIJ), the group that published the Panama Papers in 2016 and won a Pulitzer Prize, has provided a full database of the papers' contents. That database links HBJ to eight corporate firms in three jurisdictions widely regarded as tax havens—namely the British Virgin Islands, the Bahamas and Panama.
Throughout the ICIJ records Sheikh Hamad bin Jassim goes by the name "Sheikh Hamad Jassim J.M. Al-Thani". A copy of the latter's passport confirms that they are the same person. The initials "JM" stand for "Jaber bin Mohammed," part of the Sheikh's full name. The passport features HBJ's title as Prime Minister of Qatar.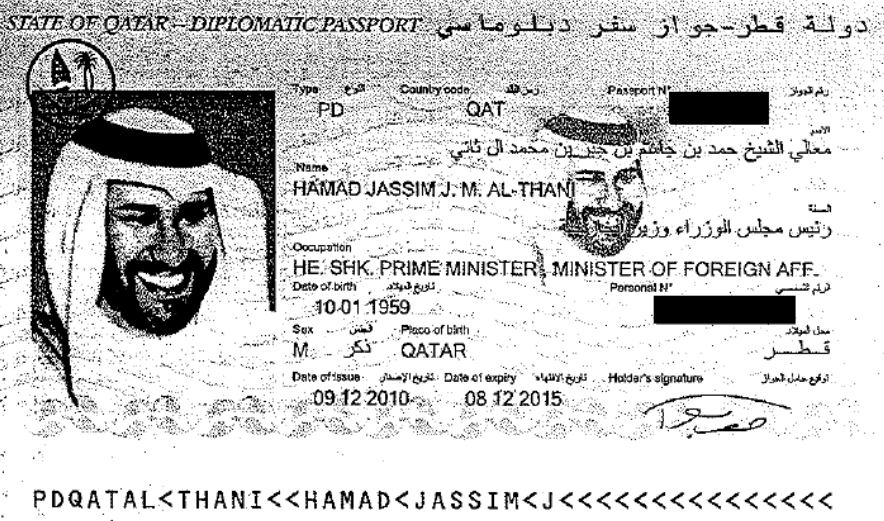 Using the ICIJ's reporting, DE-Tenants.org was able to gather additional information to supplement the ICIJ's findings. We will begin reporting our findings soon.
Read more about Al Thani family offshore assets here.
Qatar Investment Authority
As CEO of the Qatar Investment Authority sovereign wealth fund from its beginning in 2005 to 2013, HBJ exerted enormous influence over the US$335 billion fund as it made some of its most notable investments.
The QIA was reportedly founded to manage the country's windfall profits from liquefied natural gas sales, of which Qatar is the world's biggest exporter. However, the QIA has been dogged by accusations that it is, in reality, the royal family's investment vehicle in a country where personal and state wealth are blurred. Per leaked U.S. Government cables disclosed by WikiLeaks, American diplomats have stated that the QIA's investments appear to be based as much on the "personal predilections" of the Emir and his family as on any economic logic.
HBJ's colorful past
HBJ has a colorful past. He has been linked in reporting (see this Financial Times piece) to the ongoing market manipulation controversy involving Barclays Bank in Britain (though British authorities are quick to state that they are only investigating the bank and not HBJ). The Barclays episode spun off a Foreign Corrupt Practices Act investigation in the United States. A trial in Britain is pending.
In addition, HBJ has been investigated for suspicious financial transactions in the British Isle of Jersey ( HERE and HERE and HERE). He was ultimately not charged with a crime, however.
HBJ has also been accused in British court of extraditing a dual British-Qatari citizen to Qatar to imprison him in solitary confinement for over a year without proper access to a lawyer or his family as punishment for a business deal gone bad. HBJ contested the claims, and the court ultimately ruled that he could not be sued because of his diplomatic immunity status. The UN Special Rapporteur for the Prevention of Torture and the UN Office of the High Commissioner of Human Rights also got involved in the case.
HBJ's name recently surfaced in L.A. Times reporting on an investigation into Pakistan's Prime Minister and ties to offshore firms revealed in the Panama Papers.
We will explain all of these matters and many more in detail in upcoming posts.
Tagged: More on Qatar - Al Thani Family, More On Qatar - About the QIA