Posted: August 29th, 2017
Maintenance Engineers at nine Douglas Emmett commercial office buildings in Woodland Hills, California, involving a unit of 20 workers, voted affirmatively to form a union with the Operating Engineers, Local 501, on August 26, 2017. The Engineers at these buildings are employed by Douglas Emmett Management, LLC, a subsidiary of the Los Angeles-based publicly traded commercial property owner Douglas Emmett Inc. (NYSE: DEI).
The Douglas Emmett Engineers at Woodland Hills won a voice in the workplace and the legally protected right to collectively bargain over the terms and conditions of their employment, including critical issues such as health, safety, training and compensation. Improved working conditions and training opportunities, the Operating Engineers believe, will redound to the benefit of the company, its buildings, tenants and other stakeholders.
Douglas Emmett's anti-union tactics
During the union election process, companies are afforded the opportunity for an amicable voluntary recognition process, whereby a third party independently verifies majority worker support to form a union, the company recognizes the support, and the worker and management sides begin to negotiate a collective bargaining agreement.
Douglas Emmett chose another path — one of total opposition.
After the Maintenance Engineers, in coordination with Operating Engineers, Local 501, notified Douglas Emmett and the NLRB of their intent to form a union (on July 28, 2017), Douglas Emmett, on July 31, issued the following statement to the Woodland Hills Engineers:
Douglas Emmett, which generated nearly $100 million in net income last year and pays top executives such as Chief Operating Officer Kenneth M. Panzer nearly $8 million in annual compensation, kicked off a richly-financed anti-union persuasion campaign. The Maintenance Engineers over the course of nearly one month were subjected during working hours to numerous captive audience and one-on-one meetings, all in service of killing their efforts to form a union. Captive audience meetings are a "compulsory gather of employees in a workplace during which an employer delivers anti-union messages or information."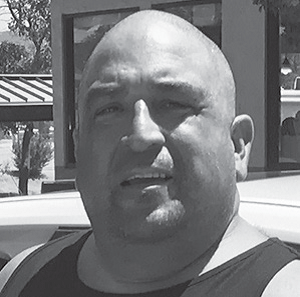 The Douglas Emmett anti-union campaign retained the services of highly-paid lawyers and outside consultants. At Woodland Hills, management's anti-union campaign deployed an individual named Simon Jara (pictured right) to engage in direct onsite persuasion for multiple weeks.
According to publicly available data from the NLRB, Simon Jara, a former union employee with the Teamsters, has been affiliated with the union-busting firm International Labor Relations (ILR), which is owned by Jimmy D. Teague. Teague is currently serving a probation sentence for 1st degree burglary and unauthorized use of a vehicle ( SOURCE).
International Labor Relations contracts people like Simon Jara — and pays them large amounts of money. For offsite work, International Labor Relations bills $375 per hour. For onsite work where a union buster talks to workers, International Labor Relations bills $3,000 per day per each union buster (SOURCE). Jara worked for International Labor Relations busting unions at Sysco Atlanta and West Coast Ambulance. Sysco Atlanta paid International Labor Relations $367,424 and West Coast Ambulance paid $129,711 (SOURCE and SOURCE).
For two-to-three weeks of work at Woodland Hills, Jara may have billed in the neighborhood of $42,000 to $64,000 — plus expenses. Add to that expenses for high-priced corporate lawyers from Ogletree and Deacons.
This is where tenant rental money was going in August. And Douglas Emmett's anti-union effort continues to retain union-busting consultants at other buildings in its portfolio.
Unfair Labor Practice Charges
Douglas Emmett has the right to persuade the Maintenance Engineers against forming a union and to hire outside consultants to make their case, within certain legal constraints.
The Monday following the Engineers' successful union election, Local 501 filed multiple federal Unfair Labor Practice (ULP) charges against Douglas Emmett's anti-union efforts, alleging that the company made threats, including refusing to negotiate a contract.
An employer commits a ULP when it engages in "prohibited interference […] with the rights of employees to organize, to form, join, or assist a labor organization." Such violations include:
Threatening employees with loss of jobs or benefits if they join or vote for a union or engage in protected concerted activity.
Threatening to close the plant if employees select a union to represent them.
Questioning employees about their union sympathies or activities in circumstances that tend to interfere with, restrain or coerce employees in the exercise of their rights under the Act.
Promising benefits to employees to discourage their union support.
Transferring, laying off, terminating, assigning employees more difficult work tasks, or otherwise punishing employees because they engaged in union or protected concerted activity.
Transferring, laying off, terminating, assigning employees more difficult work tasks, or otherwise punishing employees because they filed unfair labor practice charges or participated in an investigation conducted by NLRB.
The ULP charges filed by Local 501 will be heard by the NLRB in the near future to determine if they have merit.
Path Forward
Despite management's high-priced pressure tactics, the Maintenance Engineers overcame the anti-union campaign and achieved the legally recognized right to form a union.
The Maintenance Engineers in Woodland Hills have won the right to representation in the workplace and the right to collectively bargain with Douglas Emmett over the terms and conditions of their employment, including "wages, hours, vacation time, insurance, safety practices and other mandatory subjects." And Douglas Emmett must "bargain in good faith."
Through negotiations, Douglas Emmett has an opportunity to successfully raise working conditions for Maintenance Engineers at their facilities to meet the area standards established by Local 501 Engineers at neighboring buildings in Woodland Hills.
DE-Tenants.org will keep Douglas Emmett tenants and stakeholders apprised of negotiations.