Posted: December 11th, 2017
Los Angeles commercial property owner Douglas Emmett, Inc. has a multi-billion-dollar joint venture partnership with the sovereign wealth fund of the Middle Eastern nation of Qatar. The fund, called the Qatar Investment Authority (QIA), is controlled by Qatar's Al Thani royal family.
Because of Douglas Emmett's financial relationship with the QIA, DE-Tenants.org is delving deep into the background, assets and holdings of the Qatari elite—particular the Al Thani family.
The forthcoming series focuses on the QIA's links to the British investment bank Barclays; Douglas Emmett was not involved in the matter. The forthcoming series is outlined below:
---
The Qatar Investment Authority and the former Qatari Prime Minister have been linked to the British investment bank Barclays. A Qatari deal with Barclays has resulted in years-long investigations for a bank already "suffer[ing] a turbulent decade". And in June 2017, British authorities charged four former Barclays executives with crimes pertaining to the bank's emergency fundraising from Qatari partners during the 2008 financial crisis.
Today, DE-Tenants.org will start with the origins of this story – two rounds of fundraising that Barclays used to secure emergency financing.
Introduction
The story begins a decade ago in summer 2007, on Sardinia's Costa Smeralda, an exclusive playground for the global ultra-rich. There a Scottish banker, Roger Jenkins of Barclays, met the then-prime minister of Qatar named Sheikh Hamad bin Jassim bin Jaber al-Thani. Jenkins was then the head of Barclays' principal investing group. Sheikh Hamad, popularly known by his initials "HBJ," was at the time Qatar's prime minister and chair of the country's sovereign wealth fund, the Qatar Investment Authority (QIA).
Only a year later during the financial meltdown of 2008, HBJ would help pump a total of £6.1 billion into cash-strapped Barclays, saving it from government ownership, even as its rivals were bailed out and placed under government supervision. By avoiding a government bailout, Barclays' executives would not have to cede control of the bank's pay and dividend policies to the UK government.
The fundraising plan worked. But nearly a decade later, the long shadow of that emergency funding still hangs over Barclays. Today, those frantic cash-raising efforts are at the center of the only UK criminal case from the crisis era in which senior bank executives face charges.
The UK's Serious Fraud Office (SFO), which investigates and prosecutes white-collar crime and corruption, has charged Barclays, its former chief executive John S. Varley, and the former bankers Roger A. Jenkins, Thomas L. Kalaris and Richard W. Boath with conspiracy to commit fraud by false representation related to the 2008 fund-raising.

As well as criminal and regulatory inquiries, Barclays is also facing a whistleblowing claim from one of its most senior bankers at the time, who, according to reporting by the Financial Times, has co-operated with investigators. There is also the $1 billion lawsuit filed by a financier with Persian Gulf connections over side deals arranged between Barclays and Qatar's sovereign wealth fund.
Emergency Fundraising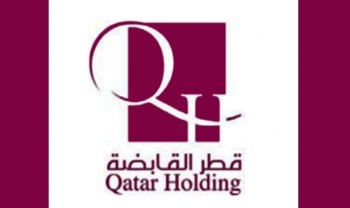 Economic crisis was looming. Starting in June 2008, after the systemic failures of global finance had already become apparent, Barclays began a £4.5 billion cash-raising effort to stabilize the financial services company. The first fundraising effort was underwritten by Qatar Holding (a subsidiary of QIA), Qatari prime minister Sheikh Hamad bin Jassim bin Jaber al-Thani ("HBJ"), and a state-owned Singaporean wealth fund called Temasek Holdings.
The first fundraising didn't work, and the financial crisis only deepened as Lehman Brothers' collapsed and filed for bankruptcy in September 2008, rocking global financial markets. This triggered a second emergency £7.3 billion cash call at Barclays, culminating in what was described in the press as "frenetic" negotiating that took place over little more than a week.
The Qataris had subscribed in June for ordinary shares at 282 pence. But by October 10, Barclays shares traded on the London Stock Exchange at 207.5 pence, marking a 26% decline. That weekend, the British Treasury held an emergency meeting over whether to bail out a series of British banks. Barclays managed to persuade the government that it could boost its balance sheet by selling off its asset management arm and raising external capital.
Barclays then tried to sell debt to institutional investors but had little positive response. That led to the £7.3 billion November fundraising, which was structured as a mix of debt, through products called reserve capital instruments or RCIs, and equity-like products. Details can be found HERE.
Investors from Qatar, UAE
In the second cash call Barclays tapped two investors to raise the £7.3 billion in needed funds to save itself from government ownership and control during the height of the financial crisis. Those investors were: 1) Qatar Holding, the direct investment arm of the Qatar Investment Authority, the nation's sovereign wealth fund; and 2) the Persian Gulf royal Sheikh Mansour bin Zayed al-Nahyan of Abu Dhabi represented by PCP Capital Partners and PCP's principal Amanda Staveley.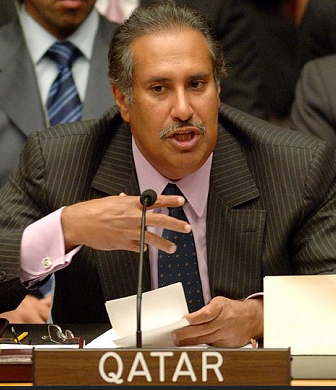 Sheikh Mansour provided £3.5 billion. The remaining £3.8 billion was raised from Qatar Holding along with its chairman Sheikh Hamad (HBJ). Sheikh Hamad's investment was reportedly £300 million, controlled via a British Virgin Islands-based family investment vehicle called "Challenger Universal" (incorporated in June 2008). For his part, the Financial Times reports courtroom allegations that "Sheikh Hamad was expecting an arrangement fee of £65 million and an additional sum of £192 million 'intended to bring the average subscription price down to 130p a share' just one day before the October 2008 fundraising was announced." That would apparently represent a total compensation of £257 million, nearly equivalent to his investment.
The fundraising plan worked, saving the bank from collapse and a government bailout; executives would not have to cede control of the bank's pay and dividend policies to the UK government. But nearly a decade later, the shadow of that emergency funding still hangs over the bank.
According to Barclays 2016 Annual Report, Qatar Holding is still to this day the second largest shareholder of Barclays with 6%.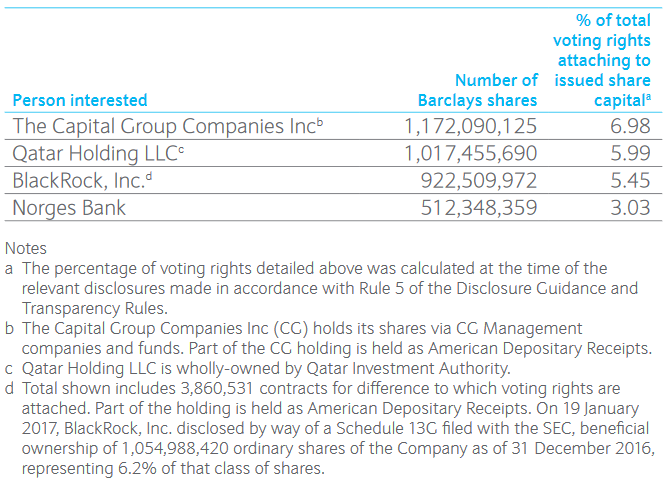 The frantic November 2008 fundraising has led to investigations by two British government agencies, including an ongoing criminal probe by the UK Serious Fraud Office; a private lawsuit for damages totaling as much as £950 million; a whistleblower claim wherein a former executive claims he was fired for cooperating with the SFO investigation; and even investigations by the American Department of Justice and Securities and Exchange Commission.
---
Part 2 of this series will examine penalties levied by the UK's Financial Conduct Authority against Barclays.
---