Posted: August 22nd, 2017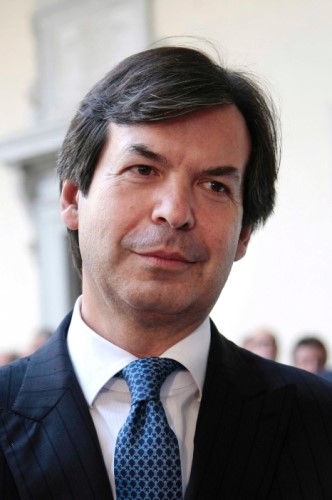 DE-Tenants.org has been following the money behind Douglas Emmett Inc.'s recent $2 billion buying spree in the Los Angeles commercial real estate market. Much of the funding comes from of Qatar's sovereign wealth fund called the Qatar Investment Authority (QIA).
In addition to scrutinizing the QIA's partnership with Douglas Emmett, we are also exploring the Qatari sovereign wealth fund's separate dealings (unrelated to Douglas Emmett). Previously, we detailed how the QIA purchased part of a 19.5% ownership interest in a Russian state-owned oil company called Rosneft for $11 billion in December 2016 (see the earlier posts HERE, HERE, and HERE). That 19.5% stake was purchased with a EUR 5.2 billion loan from an Italian bank called Banca Intesa Sanpaolo.
Today, we will look at Banca Intesa Sanpaolo in closer detail. The bank was fined $235 million by the New York State Department of Financial Services in December 2016, at the same time that it helped QIA purchase 19.5% of Rosneft.
2006 compliance agreement
Going back to 2002, Intesa Sanpaolo' New York branch has had "serious issues" complying with American anti-money laundering laws, according to regulators.
Because of the ongoing compliance issues, in 2006 Intesa Sanpaolo' New York branch entered into a written agreement with the New York State Department of Financial Services and the Federal Reserve Bank of New York. Per the agreement, Intesa Sanpaolo's New York branch would "[take] steps to address deficiencies relating to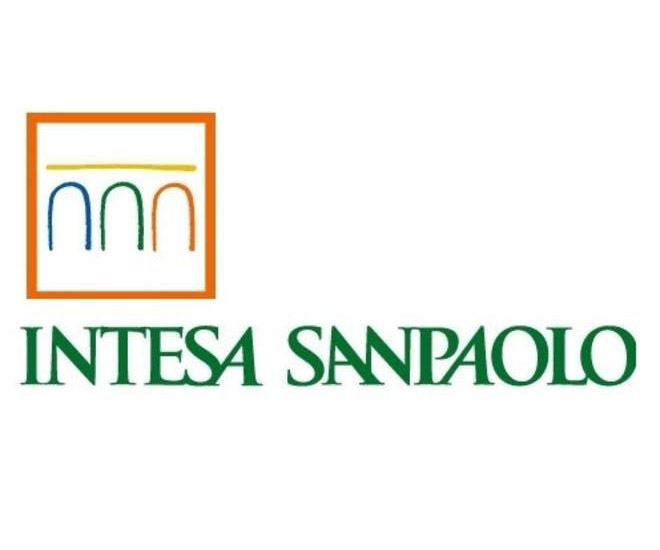 compliance." Specifically, the bank agreed to comply with the Bank Secrecy Act, Treasury Department regulations, and the anti-money laundering requirements of Regulation K of the Board of Governors of the Federal Reserve System. The agreement discussed the need to meet banking basics such as record keeping, reporting of known or suspected violations, identifying account holders, customer due diligence, staff training, etc.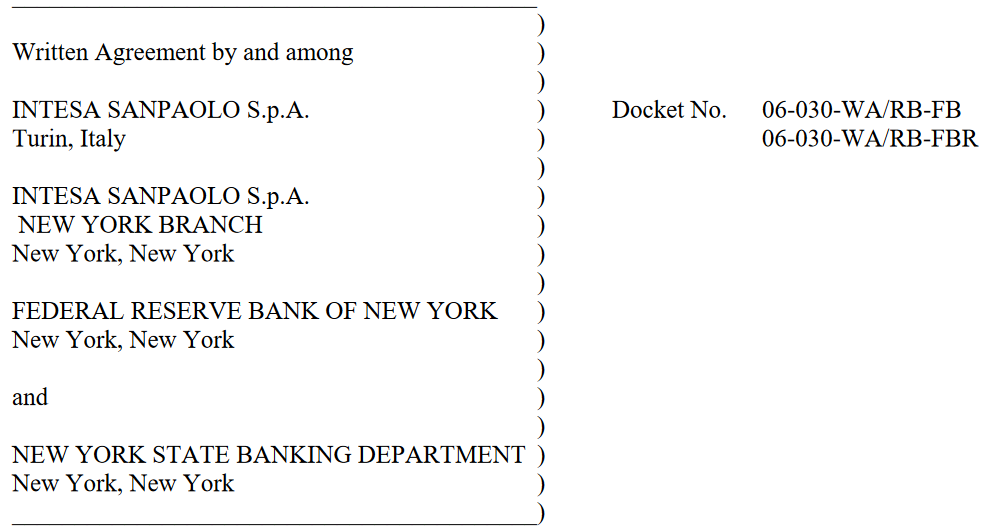 $235 million fine in 2016
Despite the 2006 written agreement and the remediation plan that it outlined, Intesa Sanpaolo failed to improve its operations. In December 2016, Intesa Sanpaolo was fined $235 million by the New York State Department of Financial Services (DFS) for "significant" and "repeated" "sweeping violations" of New York anti-money laundering and Bank Secrecy Act laws. According to a DFS press release, the "severe compliance failures" included processing numerous suspicious transactions involving shell companies through the New York branch and deliberately concealing information from bank regulators.

Because of the bank's deficiencies in the implementation and oversight of its transaction-monitoring system, bank staff "repeatedly failed to properly identify suspicious transactions". But worse still, the DFS stated that Intesa Sanpaolo "specially trained certain employees to handle transactions involving Iran to obfuscate the money-processing activities so they could not be readily flagged as transactions tied to a sanctioned entity." That is, Intesa allegedly trained certain employees to deal with Iranian transactions in a non-transparent way that avoided immediate detection. (SOURCE)
The DFS investigation discovered that from approximately 2002 to 2006, Intesa used opaque methods and practices to conduct more than 2,700 U.S. transactions, amounting to more than $11 billion, on behalf of Iranian clients and other entities possibly subject to U.S. economic sanctions. By processing transactions using these non-transparent methods, "Intesa subverted controls designed to detect illegal transactions […] and thwarted the effective supervision of the New York branch by regulators." (SOURCE)
According to statements by DFS Superintendent Maria T. Vullo, "Effective and responsible transaction monitoring systems are an essential tool in the battle against illicit transactions and terrorist financing in this age of risk. There is little doubt that the negligent conduct of this bank is the type of conduct that can fuel international criminal activity […]". (SOURCE)
Consent order
The DFS and Intesa Sanpaolo signed a consent order (depicted below), according to which the bank agreed to complete its remediation plan to make immediate and fundamental changes. The bank also submitted to the supervision of an independent consultant to oversee compliance for at least two years with the possibility of extending that term.
The consent order revealed further details about the bank's conduct and past. For example, Intesa Sanpaolo reached a settlement with the U.S. Treasury in 2013 according to which the bank paid $2.9 million for apparent violations for processing transactions for Iranian, Sudanese, and Cuban entities. The consent order also described "examples of suspicious activity involving government agents or other politically-exposed persons, as well as unusual payment patterns, both of which also may be indicative of money laundering, bribery or other illicit conduct." One such example involved Intesa Sanpaolo's Luxembourg subsidiary which processed a transaction through the New York branch for a customer registered at a shell company address in Panama associated with the now-infamous Mossack Fonseca law firm.
The consent order reported that regulators had "uncovered at least 6,600 SWIFT messages, totaling at least $319 million, processed by Intesa during 2005-2006 period that bore strong indicia of possible shell company activity."
Consent order signed the same day as Rosneft deal closes
Of note, Intesa Sanpaolo signed the consent order with DFS on 15 December 2016 — the same day that QIA closed its deal to acquire 19.5% of Rosneft's shares. The consent order was signed by the CEO of Banca Intesa Sanpaolo, Carlo Messina.
The consent order and news of the whopping $235 million fine may have earned Banca Intesa Sanpaolo and the Rosneft deal particular scrutiny at home in Italy. Financial regulators in Rome reportedly examined whether Intesa Sanpaolo's financing of the Rosneft deal complied with sanctions before giving it the greenlight around New Year 2017. American authorities similarly scrutinized the Rosneft deal.
For his part in financing the sale of 19.5% of Rosneft's shares, Vladimir Putin awarded one of Russia's top honors for foreigners—the Order of Friendship—to Carlo Messina.