Posted: July 17th, 2017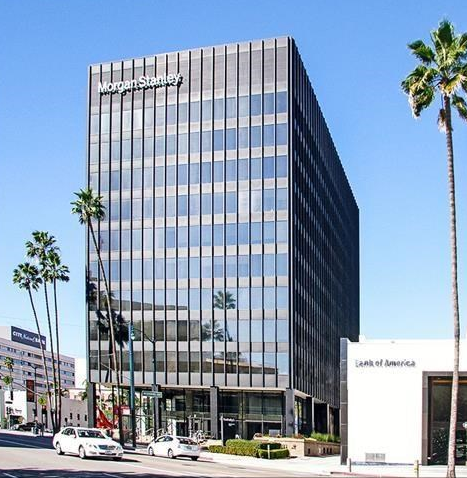 The partnership between Douglas Emmett (NYSE: DEI) and Qatar Investment Authority (QIA) has reportedly acquired another Los Angeles office property. The partnership purchased a 10-story, Class-A, 171,000-square-foot office building at 9665 Wilshire Boulevard in Beverly Hills from Blackstone Group for roughly $188 million, or $1,100 per square foot, according to The Real Deal, a real estate trade publication. Although a subsequent article by The Real Deal stated that Douglas Emmett and QIA "are in contract to buy" 9665 Wilshire, and the seller still lists the property on its website.
The deal comes on the heels of other acquisitions from the same seller, Equity Office, part of Blackstone's Los Angeles portfolio. In April 2017, Douglas Emmett and QIA acquired two buildings, at 1299 Ocean Avenue and 429 Santa Monica Boulevard.
Douglas Emmett manages the joint venture with QIA, which is the sovereign wealth fund of Qatar, and puts in 20 percent of the equity for acquisitions, CIO Kevin Crummy said on an earnings call in May 2017. Additional, unnamed partners are involved in the deals, according to The Real Deal.
The particular joint venture entity involved in the reported acquisition appears to be DE Pacific 9665 LLC—one of a series of "DE Pacific"-branded Delaware entities involved in recent Los Angeles real estate acquisitions by Douglas Emmett and QIA. DE Pacific 9665 LLC was incorporated on 6 June 2017, just two days before The Real Deal reported the acquisition.
The Real Deal, citing CoStar data, reported that the Beverly Hills building is roughly 85 percent occupied. Its major tenants include Smith Barney, Wachovia Securities, RBC Dane Rauscher, and Sotheby's International Realty.
The partnership is now said to be eyeing Blackstone's two-building, 140,000-square-foot Arboretum Courtyard office complex at 2120-2150 Colorado Avenue in Santa Monica. With the purchases it had closed by the time of the earnings call, Douglas Emmett controls more than 70 percent of Santa Monica's office supply, Douglas Emmett CEO Jordan Kaplan claimed on the call.
DE-Tenants.org will follow upcoming developments.
| | Corporation: | Entity's Incorporation Date: | Entity's Jurisdiction: | Entity's Identifier: | Entity's Status: | Details: |
| --- | --- | --- | --- | --- | --- | --- |
| | DE Pacific 12100, LLC | 15-Jun-16 | USA (Delaware) | 6069343 | Active | Involved in Douglas Emmett and QIA's $225 million purchase of 12100 Wilshire Boulevard in the Brentwood submarket of Los Angeles from Hines |
| | DE Pacific 1299, LLC | 20-Mar-17 | USA (Delaware) | 6353643 | Active | Involved in Douglas Emmett and QIA's $248 million purchase of 1299 Ocean Avenue in Los Angeles |
| | DE Pacific 233, LLC | 25-Jul-16 | USA (Delaware) | 6106715 | Active | Involved in Douglas Emmett and QIA's $139.5 million purchase of 233 Wilshire Boulevard in Los Angeles |
| | DE Pacific 429, LLC | 20-Mar-2017 | USA (Delaware) | 6353647 | Active | Involved in Douglas Emmett and QIA's $104.8 million purchase of 429 Santa Monica Boulevard in Los Angeles |
| | DE Pacific 9665, LLC | 6-Jun-2017 | USA (Delaware) | 6436340 | Active | Involved in Douglas Emmett and QIA's $188 million purchase of 9665 Wilshire Boulevard in Los Angeles |
| | DE Pacific Manager, LLC | 15-Jun-2016 | USA (Delaware) | 6069317 | Active | Involved in Douglas Emmett and QIA's purchase of a portfolio of 5 premier Los Angeles buildings for $905 million in 2016 and 2017 |
| | DE Pacific Member, LLC | 15-Jun-2016 | USA (Delaware) | 6069323 | Active | Involved in Douglas Emmett and QIA's purchase of a portfolio of 5 premier Los Angeles buildings for $905 million in 2016 and 2017 |
| | DE Pacific Operating Company, LLC | 15-Jun-2016 | USA (Delaware) | 6069335 | Active | Involved in Douglas Emmett and QIA's purchase of a portfolio of 5 premier Los Angeles buildings for $905 million in 2016 and 2017 |
| | DE Pacific River, LLC | 26-Apr-17 | USA (Delaware) | 6392211 | Active | Douglas Emmett and QIA vehicle for an unknown purchase |
| | DE Pacific Venture, LLC | 15-Jun-2016 | USA (Delaware) | 6069328 | Active | Involved in Douglas Emmett and QIA's purchase of a portfolio of 5 premier Los Angeles buildings for $905 million in 2016 and 2017 |
Tagged: DE Partnership with Qatar